How to Select Diaphragm Material
Sure Controls is proud to offer Dynisco products as well as repair and calibration services for them. For over 60 years, Dynisco pressure sensors have been used in various applications around the world. The original patent holder for the melt pressure sensor used in extrusion, Dynisco has remained the world class industry leader in this technology by working side by side with our end users to meet the ever changing demands of the plastics market.
The below information from Dynisco can help you better understand what to consider when selecting Diaphragm Material.
The selection of diaphragm material used on the Dynisco pressure sensor, depends on the application where the sensor will be used. We must first ask the question, does the sensor come in contact with a pure material, or a blend of materials? Then we would consider the properties of these materials, based on the classification of each polymer component.
The classifications of polymers are thermoplastics, elastomers, thermoplastic elastomers, and thermoset. The various polymer families within these classifications are Polyolefins, Polyesters, Urethanes and Amides.
Thermoplastic and elastomer processing includes methods like  extrusion, injection molding, and compression molding. All which utilize pressure sensors to enable pressure measurement and control in these processes.
Dynisco pressure sensors are designed to withstand these environments, and to provide many years of reliable service, provided the correct attributes are selected to match the application.
Is the material abrasive, corrosive, what are the temperatures of the process?
For example:  if the application utilizes polypropylene, Dynisco will recommend our standard diaphragm option on the pressure sensor being selected.
Our standard diaphragm is Dymax ® coated stainless steel (15-5PH) which stands up well against abrasive material flow, and is reliable in the majority of extrusion environments.
If the process application calls for material that will adhere to our standard diaphragm, like an elastomer (TPE)  we may recommend a titanium nitride coating (TiN) to prevent this adhesion, or limit the ability for the material to deform the diaphragm.
Other applications may utilize polymers with corrosive properties, materials like fluoropolymers (PTFE or FEP) where our standard diaphragm would not last as long due to oxidation. Dynisco may recommend a different diaphragm material be used, such as an Inconel or a Hastelloy.
Materials and coatings  available for selection of diaphragm construction are: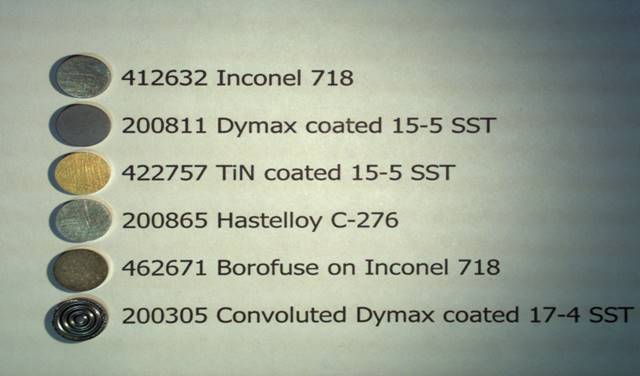 15-5 PH Stainless steel with Dymax ® coating – Provides durability with abrasion resistance, standard on most sensor models.
Hastelloy – Provides corrosion resistance, not recommended for prolonged use in high temperatures.
Inconel 718 – Provides abrasion and corrosion resistance, recommended for use in temperatures up to 750 degrees F or higher.
Dymax ® -Durable,  proprietary surface coating, abrasion resistance.
Borofuse– Best abrasion resistance coating available, can only be used on Inconel
Titanium Nitride – Abrasion and adhesion resistance, can be used on most diaphragm materials.
Titanium Aluminum Nitride– Enhanced abrasion and adhesion resistance, standard on Dynisco Echo sensors (inconel diaphragm material)
Note* Consult Sure Controls for alternative materials and coatings not listed*
Sure Controls is committed to providing the best products, integration and service solutions. Dynisco is commited to manufacturing pressure sensor solutions that will provide reliable, lasting service for the plastics industry. Together we work to give you the smartest solution for your business challenges.
For more information, call Sure Controls at 800-844-8405 or fill out a contact form online. We look forward to speaking with you!